Welcome to My Website, Be sure to see Events page!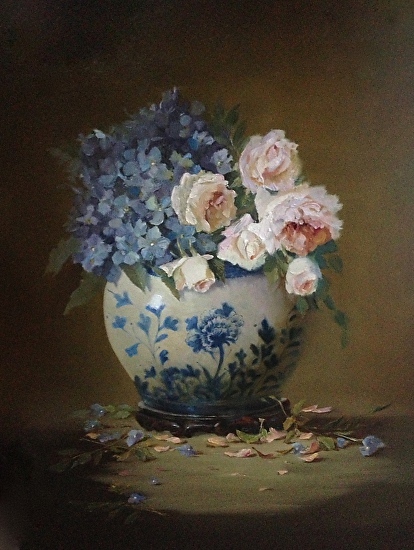 Fading Beauty, 20 x 24, oil on board, $ 1100.
Available at Roger's Gardens
The 3rd Annual "Day of Art"
Sunday, April 26, 2015, 9-4
2301 San Joaquin Hills Rd. at Jamboree
Corona del Mar, CA 92625
50 Artists will display a painting of the gardens or inspired by Roger's Gardens and will be painting throughout the Gardens and the Galleries.
Paintings completed that day will also be available for purchase through Roger's.
Come Early as this is a very Popular Event!
See New Works page for lots of new paintings.
See Events Page for this Upcoming Event
Tustin Historic Home Tour, Antique Car Show and Art Paint and Sale!
Saturday, May 2, 2015
SOLD!!
I am very honored to announce that my painting
Canton Blue & White
was accepted into the
Oil Painters of America
2014 National Juried Exposition of Traditional Oils
June 4-July 27
in historic Bennington, Vt.
AND!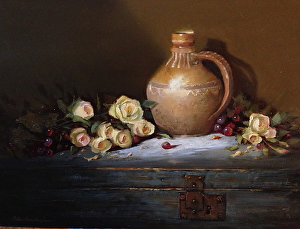 SOLD!
Thank you, Legacy Gallery!
Bronze Medal Winner!
1st Annual International Juried Artists Guild Exhibition
held at the Legacy Gallery
Scottsdale, AZ
February, 2014
Visit our new gallery website with links to all artists' websites!
1 949 494-4324
376 N. Pacific Coast Highway, between Jasmine and Aster
Laguna Beach, CA 92651
Visit our new website:
lagunanorthgallery.com
Fun NEWS! My website was featured on the Blog, Pinecones and Acorns,
(Sweet Blogger, Elizabeth, is a fan of still life paintings!)
Visit her blog at pineconesandacorn.blogspot.com where you will find lots of great images and all albout her life in New Hampshire!
Exciting New Things are Happening Here!
I have a new Facebook Fan Page. Like the paintings here and on my page!
I have a new blog in the works; art, antiques, vintage goods, jewelry and everything else that inspires my life!
The new blog is:
A Sea Captain's Daughter
aseacaptainsdaughter.blogspot.com
It is in development at this time and will be up soon.
It will be partnered with an Etsy shop by the same name and that will be up in the next few weeks.
I will post that here when it is available.
Paintings will be available through Pay Pal!
All paintings on this website will be priced at that time.
Thank you to all of you collectors, students and friends who make my life a joyous one!
Check back for further great happenings here!